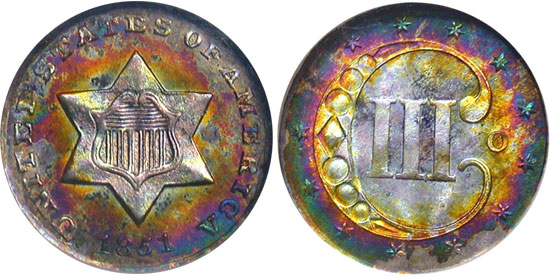 The 1851-O Three Cent Silver Piece is an interesting little coin. The issue not only represents the first year for the denomination, but also the only year that a three cent piece was struck at a branch mint. The New Orleans Mint's "O" mint mark appears before the opening of the ornamental "C" on the reverse of the coin.
The issue carried a mintage of 720,000 pieces, which is at the higher end of the spectrum for the series. Nonetheless, the coin carries a premium above most of the Philadelphia issues and is not encountered as often as one might think.
Because of its status as the only New Orleans three cent piece, it is much sought after by New Orleans specialists as well as collectors building sets of three cent pieces. The coin is especially difficult to find in gem or finer condition, as virtually all were released into circulation resulting in relatively few surviving uncirculated specimens.