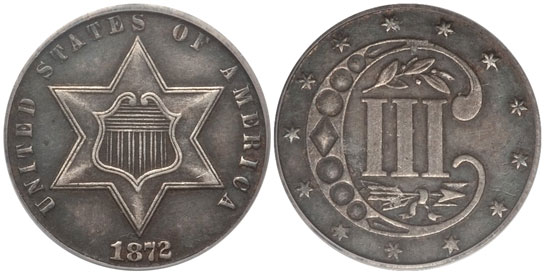 The 1872 Three Cent Silver Piece represents the final circulation strike of the series and also the issue with the smallest mintage. A mere 1,000 pieces were struck for circulation, making this the absolute key date for a business strike set of three cent silver pieces.
It is believed that the melting of many three cent silvers which took place in July of 1872 has contributed to the scarcity of the date. Most surviving pieces are in uncirculated condition, although gems are relatively scarce. Identifying a business strike can be difficult as many are prooflike.
The issue was struck in proof format for collectors with a mintage of 950. Since these were distributed to collectors, the survival rate for the proof coins is higher and these coins remain relatively available.